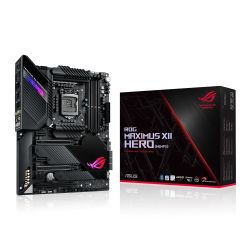 Asus ROG MAXIMUS XII HERO (WI-FI), Intel Z490, 1200, ATX, 4 DDR4, XFire/SLI, HDMI, AX Wi-Fi, 5G LAN, M.2
Manufacturer :
ASUS
Manufacturer Part Code :
90MB12R0-M0EAY0
Category : Motherboards
Weight: 2.9300 kg
Price : £ 476.45 + £ 5.20 Postage per Order (UK)
Items : 100
Updated : 28-09-2020 02:09:20

ROG Maximus XII Hero is the perfect foundation to the Republic of Gamers.
It's a motherboard that packs substantial power, smart cooling and faster memory support under a stealthy skin. Loaded with renowned ROG features, from AI overclocking and AI cooling to attention-grabbing Aura Sync illumination, Maximus XII Hero is ready to perform and crafted for customization.
Our ROG engineers developed and extensively-tested intelligent software solutions to ensure your system stays in optimal condition.
AI Overclocking
Tuning is now faster and smarter than ever before. AI Overclocking profiles the CPU and cooling to predict the optimal configuration for each system.
AI Cooling
AI Cooling automatically manages and controls motherboard connected fans, ensuring the most efficient settings depending on the current system load and temperature.
AI Networking
GameFirst VI optimises and organises network bandwidth, effectively reducing jitter and eliminating spike lag to ensure smooth online gameplay.
The Intel Comet Lake processor features 10 cores and a peak single-core Turbo speed that exceeds 5.3 GHz right out of the box. To cope with this increased demand on the system, Maximus XII Formula takes advantage of its intelligent VRM design and uses quality components to ensure the best gaming and daily productive computing experience.
Teamed Power Architecture
Today's CPU architectures place incredible demands on motherboard power design by transitioning from deep power saving modes , going from lower-power mode to full load in an instant. Our latest VRM architecture rises to the challenge by utilising teamed power stages to rapidly swing current, while maintaining exemplary thermal performance.
ASUS Optimem III
Boasting proprietary memory trace layout tweaks that improve signal integrity and mitigate noise, ASUS OptiMem III is more compatible with 3600 MHz+ memory kits, allowing them to run at higher frequencies. You can opt to optimise memory for high frequency settings, or low latency settings. With higher capacity memory kits, OptiMem III enables you to run at maximum frequency, whereas other motherboards will trade off frequency for capacity. Stack Maximus XII Extreme with your favourite modules and maximise throughput of the new 10th Generation Intel Core Comet Lake-S processor for applications that demand massive bandwidth.
Maintaining system stability is paramount under high load, so Maximus XII Hero employs large VRM and chipset heatsinks that strike the right balance between surface area and mass. The extra-large armor heatsinks also cover multiple M.2 slots. Featuring premium components and multiple fan headers, Maximus XII Hero is fully armed to provide the best foundation for gaming systems - enabling higher performance at lower temperatures.
VRM heatsink
A VRM heatsink is placed on the MOSFETs and chokes, and the embedded heatpipe connects to the aluminum I/O cover.
Large diameter heatpipe
The U-shaped design provides rapid and even heat transfer from the VRM to the extended VRM heatsink.
M.2 heatsink
A dedicated heatsink keeps the triple M.2 SSDs at the optimum operating temperature for consistent performance and reliability.
High-conductivity thermal pad
The high-quality thermal pad improves overall heat transfer from the system by bridging the heat generated by the power stages to the heatsink.
Extended VRM heatsink
The extended heatsink at the end of heatpipe increases thermal mass to offset the additional heat generated by high power consumption.
Chipset heatsink
A dedicated chipset heatsink draws heat away to maintain optimum operating temperatures.
Cooler by Design
ROG Maximus XII Hero features the most comprehensive cooling options ever.
Multiple temperature sources
Each header can be set to monitor and react to three user-configurable thermal sensors for workload-based cooling. And all settings can be easily managed by Fan Xpert 4 or UEFI.
4-pin PWM/DC fan
Every onboard header supports auto-detection of PWM or DC fans.
AIO pump
A dedicated PWM/DC header for self-contained water-cooling setups.
Dual water-temperature headers and a flow-rate header feed information straight into the AI Suite utility, allowing you to track coolant temperatures and the flow rate of the entire loop.
Water pump+
A dedicated header can supply over 3 amps to high-performance PWM or DC water pumps.
Water in/out
A dedicated header enables monitoring of temperatures at the input/output points of any component.
Water flow
A dedicated header enables constant monitoring of flow rate throughout the entire loop.
Maximus XII Hero is packed with intuitive and flexible tools to allow customization across all system parameters to deliver the performance you want.
The dashboard-style control panel of AI Suite 3 lets you fine-tune almost every aspect of your ROG Maximus XII Hero system with ease. Get the best balance between performance, cooling, stability, and efficiency via one simple and intuitive interface.
The renowned ROG UEFI (BIOS) provides everything you need to configure, tweak, and tune your rig. It offers intelligently simplified options for newcomers to PC DIY, as well as comprehensive features for seasoned veterans.
Accurate Voltage Monitoring
Conventional motherboards use single-ended sensing tapped from a location that isn't ideal, leading to a large disparity between the actual voltage fed to the CPU and the value reported to software. Maximus XII Hero features a differential-sensing circuit and delicate IC that simplify overclocking and tuning by allowing you to track voltages more accurately.
ROG Maximus XII Hero offers advanced connectivity, including WiFi 6 (AX201) and dual Ethernet with intel 1Gb and Marvell 5Gb Ethernet port to eliminate bottlenecks so you can enjoy exceptionally smooth online and LAN play. Additionally, the M.2 supports Intel OptaneTM Memory technology to maximize the speed of your SSD for faster load times, and SupremeFX on-board audio provides superb sound, while saving a PCIe slot.
Maximus XI Hero comes equipped with three M.2 slots to let you take full advantage of Intel IRST and NVMe RAID for ultimate SSD storage speeds. The drives can be found under the aluminum heatsink covers. Integrated PCIe support ensures compatibility with the latest NVMe SSDs to enable ultrafast transfer speeds.
WiFi 6 (AX201)
Onboard WiFi 6 (802.11ax) supports ultrafast wireless-networking speeds, improved capacity and better performance in dense WiFi environments, providing exceptional online gaming experiences. *
Marvell 5Gbps Ethernet
With up to 5X the bandwidth of standard gigabit Ethernet, you'll enjoy streaming uncompressed 4K UHD videos, backups and file transfers that are faster than ever before. Hero supports intermediate 2.5Gbps connectivity, allowing you to step up to faster networks for maximum flexibility. Choose the bandwidth that meets your needs and enjoy ultra-low latency at any speed.
Intel 1Gbps Ethernet
ROG Maximus XI Hero features Intel Gigabit Ethernet for faster, smoother gaming. Intel Ethernet controllers have a natural synergy with their processors and chipsets, reducing CPU overhead and offering exceptionally high TCP and UDP throughput, so there's more power for games and other tasks.
SupremeFX
ROG SupremeFX audio technology has levelled up, delivering an exceptional 113 dB signal-to-noise ratio on the line-in connection to provide best-ever recording quality. There's also a low-dropout regulator for cleaner power delivery to the SupremeFX S1220 codec, an ESS ES9023P digital-to-analog converter for superior front-panel output, and a Texas Instruments RC4580 op amp for high gain with low distortion - all to deliver audio that envelops you as never before.
Audio Line Shielding
Blocks electromagnetic interference from the motherboard or add-ons to provide cleaner audio.
ESSES9023P
The ESS ES9023P digital-to-analog converter creates a perfect balance for top-tier audio clarity capable of 112db DNR /-94dB THD+N for superior front-panel output.
S1220 codec
10 DAC channels provide simultaneous 7.1-channel playback, independent 2.0-channel, multiple-stream stereo to front-panel outputs
Switching MOSFETS
Unique design allows the codec's impedance-sensing function to be ported with either the front or rear headphone outputs
Nichicon CAPS
Fine-quality Japanese-made components that produce a warmer, natural sound with exceptional clarity and fidelity
In addition to extraordinary performance, Maximus XII Hero provides extensive styling and customization options to let you build a system that truly stands apart.
Grow your gaming world
Gear up with ROG components, from graphics and monitors to mice and keyboards. And up your game with complementary aesthetics, control and compatibility. The ROG ecosystem is more extensive than any competing brand, so enjoy greater choice as your system expands.
Addressable Gen 2 RGB header
The addressable Gen 2 RGB headers now feature software that can automatically tailor lighting effects to specific devices. The new headers also offer backward-compatibility with existing Aura RGB gear.
RAMCache lll software utility turns milliseconds into microseconds to boost game-load times. Fully compatible with the latest NVM Express storage options, RAMCache lll utilizes uniquely intelligent technology to effectively cache any storage device, so favorite games and apps launch at breakneck speeds.
Sonic Studio III
Sonic Studio supports HRTF-based (head-related transfer function*) virtual surround for headsets, casting an immersive aural landscape that draws you deeper into the action. The intuitive Sonic Studio interface also offers a range of EQ options and one-click presets, allowing you to tailor acoustics to suit personal preferences or the characteristics of your headset.
DTS : Sound Unbound
ROG Maximus XII Formula includes a pre-loaded DTS Sound Unbound app that envelops you in audio as never before, conjuring whole new levels of immersion for extraordinary gaming and entertainment experiences. By exploiting Windows Sonic spatial technology, DTS Sound Unbound delivers audio in a virtual 3D space - putting you right in the middle of the soundscape, where you can sense the location and direction of every gunshot, footstep or other sound in your virtual environment.
OLED
ROG Maximus XII Formula motherboards is equipped with LiveDash, a built-in 2" OLED panel that displays useful information and customizable graphics. During the power-on, self-test (POST) phase, OLED shows key progress stats in simple language, using traditional POST codes. Then, during normal operation, the panel shows a choice of CPU frequency, device temperatures, fan speeds or information from the Water-Cooling Zone. You're also able to customize the default OLED GIF, so it'll display your own image or animation.
Armoury Crate is a software utility designed to provide centralized control of supported ROG gaming products. From a single intuitive interface, Armoury Crate puts command of all your Aura gear at your fingertips with the new Aura Creator suite ready. The software also provides control of settings for a growing number of ROG products, making it easier to tune the look and feel of your system. Armoury Crate even offers dedicated product registration and ROG news feeds to help you stay in touch with the ROG gaming community.
Description
Specification
Motherboard Type: Desktop
Form Factor: ATX
Socket: Intel 1200
Chipset: Intel Z490
#Hide#DDR Type: DDR4
CPU Support: Click here for CPU support
RAM Technology: DDR4 (Dual Channel)
RAM Slots: 4 x DIMM
RAM Speeds: 4800(O.C.)/4700(O.C)/4600(O.C)/4500(O.C)/4400(O.C)/4266(O.C.)/4133(O.C.)/4000(O.C.)/3866(O.C.)/3733(O.C.)/3600(O.C.)/3466(O.C.)/3400(O.C.)/3333(O.C.)/3200(O.C.)/3000(O.C.)/2933/2800/2666/2400/2133 MHz
Maximum Memory: 128GB
Graphics: Supports Intel HD Graphics
Graphics Ports: 1 x HDMI
Multi-GPU Support: Supports NVIDIA 2-Way SLI Technology
Supports AMD 3-Way CrossFireX Technology
Supports AMD 2-Way CrossFireX Technology
PCI/PCI Express: Intel 10th Gen Processors
2 x PCIe 3.0 x16 (x16 or dual x8)

Intel Z490 Chipset
1 x PCIe 3.0 x16 (x4 mode)
3 x PCIe 3.0 x1
Storage: 6 x SATA III
1 x M.2 (2242/2260/2280/22110) - SATA & PCIe
1 x M.2 (2242/2260/2280) - PCIe
1 x M.2 (2242/2260/2280/22110) - SATA & PCIe
RAID: "RAID 0, 1, 5, 10"
Wireless: Intel Wi-Fi 6 AX201
2x2 Wi-Fi 6 (802.11 a/b/g/n/ac/ax)
Support 1024QAM/OFDMA/MU-MIMO
Supports up to 2.4Gbps max data rate
Supports dual band frequency 2.4/5 GHz
Supports channel bandwidth: HT20/HT40/HT80/HT160
Supports CNVI interface
Bluetooth v5.1
LAN: 5GB LAN & GB LAN
Audio: ROG SupremeFX 7.1 Surround Sound High Definition Audio CODEC S1220
USB Ports Supported: "4 x USB 3.2 Gen2 (3 Type-A & 1 Type-C at back)
6 x USB 3.2 Gen1 (4 at back, 2 at mid-board)
6 x USB 2.0 (2 at back, 4 at mid-board)
1 x USB 3.2 Gen2 front panel connector"
Back Panel I/O Ports: 1 x Marvell AQtion AQC111C 5Gb Ethernet
1 x Intel I219-V 1Gb Ethernet
1 x HDMI
4 x USB 3.2 Gen2
4 x USB 3.2 Gen1
2 x USB 2.0
1 x Optical S/PDIF out
1 x Clear CMOS button
1 x USB BIOS FlashBack Button
1 x ASUS Wi-Fi Module
5 x Gold-plated audio jacks
Internal I/O Connectors: 1 x CPU Fan
1 x CPU OPT Fan
3 x Chassis Fan
1 x AIO_PUMP
1 x H_AMP fan
1 x W_PUMP+
1 x W_IN
1 x W_OUT
1 x W_FLOW
1 x AAFP
2 x Aura RGB Strip
2 x Addressable Gen 2
.: 1 x USB 3.2 Gen 1
2 x USB 2.0
3 x M.2 Socket 3
6 x SATA 6Gb/s
1 x Thunderbolt
1 x 24-pin EATX
1 x 8-pin ATX 12V
1 x 4-pin ATX 12V
1 x Thermal sensor
1 x ReTry button
.: 1 x System panel
1 x USB 3.2 Gen 2 front panel
1 x Speaker
1 x Start button
1 x FlexKey button
Accessories: Addressable LED ext cable
1 x ROG logo plate sticker
4 x SATA 6Gb/s cables
1 x MOS Cooling kit
1 x ROG big sticker
1 x Q-Connector
1 x Wi-Fi Antenna
1 x Ext Cable for RGB strips (80 cm)
1 x ROG Thank you card
2 x M.2 SSD screw packages
2 x M.2 Rubber Packages
1 ROG key chain
Additional Features: See Overview
Package Type: Retail
Package Weight: 2.9300 kg
Warranty: 3 Years
#Hide#M.2 Slot(s): Yes (M.2)
#Hide#No. LAN Ports: 2 x LAN
#Hide#Max LAN Speed: 5GB LAN
#Hide#Wi-Fi: Yes (Wi-Fi)
Once you have made your purchase, we can help provide support, remotely or on-site, quickly, from our
un-reveiled support service
.
We can also provide you
Installation Service
, to help you get your new product or device working.
You may want to have some training, on how to use your new purchase, we can help there too,
Remote Training
, to help you to get the best out of your new product or device.