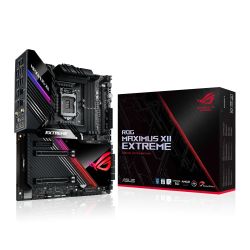 Asus ROG MAXIMUS XII EXTREME, Intel Z490, 1200, EATX, 4 DDR4, XFire/SLI, AX Wi-Fi, 2.5G & 10G LAN, RGB Lighting, M.2
Manufacturer :
ASUS
Manufacturer Part Code :
90MB12J0-M0EAY0
Category : Motherboards
Weight: 4.6700 kg
Price : £ 894.85 + £ 5.20 Postage per Order (UK)
Items : 6
Updated : 01-12-2020 23:12:30

Intel Z490 EATX motherboard with 16 power stages, DDR4 4700 MHz (O.C.), Quad M.2, Dual USB 3.2 Gen 2 front-panel connector, USB 3.2 Gen 2x2 Type-C and Aura Sync RGB lighting
LGA 1200 socket for 10th-gen Intel® Core™ desktop processors
Optimisation: Automated system-wide tuning, providing AI Overclocking and AI Cooling profiles tailor-made for your rig
Cooling: dedicated water cooling zones, M.2 heatsink and various fan controls
Connectivity: Marvell® AQtion 10Gb, Intel® 2.5Gb Ethernet , LANGaurd, Quad M.2, USB 3.2 Gen 2, and Intel® Wi-Fi 6
Synchronised RGB lighting technology works with a vast portfolio of Aura Sync-capable PC gear and includes support for addressable light strips and Philips Hue
Our ROG engineers developed and extensively-tested intelligent software solutions to ensure your system stays in optimal condition.
AI Overclocking
Tuning is now faster and smarter than ever before. AI Overclocking profiles the CPU and cooling to predict the optimal configuration for each system.
AI Cooling
AI Cooling automatically manages and controls motherboard connected fans, ensuring the most efficient settings depending on the current system load and temperature.
AI Networking
GameFirst VI optimises and organises network bandwidth, effectively reducing jitter and eliminating spike lag to ensure smooth online gameplay.
Maximus XII Extreme is the ideal foundation for your dream gaming build. An intelligent voltage-regulator module (VRM) design and high-quality components ensure that you'll get the most out of demanding latest-generation Intel processors. More firepower and an overclocking edge are yours with Maximus XII Extreme.
Teamed Power Architecture
Today's CPU architectures place incredible demands on motherboard power design by transitioning from deep power saving modes , going from lower-power mode to full load in an instant. Our latest VRM architecture rises to the challenge by utilising teamed power stages to rapidly swing current, while maintaining exemplary thermal performance.
ASUS Optimem III
Boasting proprietary memory trace layout tweaks that improve signal integrity and mitigate noise, ASUS OptiMem III is more compatible with 3600 MHz+ memory kits, allowing them to run at higher frequencies. You can opt to optimise memory for high frequency settings, or low latency settings. With higher capacity memory kits, OptiMem III enables you to run at maximum frequency, whereas other motherboards will trade off frequency for capacity. Stack Maximus XII Extreme with your favourite modules and maximise throughput of the new 10th Generation Intel Core Comet Lake-S processor for applications that demand massive bandwidth.
Featuring premium components, multiple fan headers and a bundled fan extension card, Maximus XII Extreme is fully equipped to enable higher performance at lower temperatures. To ensure system stability under heavy CPU loads, Maximus XII Extreme employs large VRM and chipset heatsinks that strike the right balance between surface area and mass. The extra-large heatsinks also cover multiple M.2 slots.
Cooling Heatsinks
Maximus XII Extreme delivers exceptional overclocking performance without requiring a fan for cooling. This is possible thanks to 16 teamed power stages running 90A MOSFETs on it VRM layout. To further improve heat dissipation, the I/O cover act as a large heatsink and there is also a heat pipe bridging the VRM heatsinks, increasing surface area and improving heat dissipation.
VRM heatsink
A VRM heatsink is placed on the MOSFETs and chokes, and the embedded heatpipe connects to the aluminium I/O cover.
Aluminium I/O cover
An aluminium I/O cover is connected to the primary heatsink via an embedded heatpipe, increasing mass and surface area for dissipation.
Extended VRM Heatsink
Helps cool vital motherboard power delivery areas to enhance the overclocking potential of future processors.
Aluminium heatsink cover
The heatsink cover is crafted from pure aluminium to efficiently cool the two onboard M.2 drives.
High-conductivity thermal pad
The high-quality thermal pad improves overall heat transfer from the system by bridging the heat generated by the power stages to the heatsink.
Solid steel backplate
A steel, cold-rolled coil construction backplate strengthens the motherboard to prevent bending, and adds additional mass to siphon heat from the VRM.
Chipset heatsink
A chipset heatsink blends seamlessly with the aluminium heatsink cover and prominently features the ROG logo.
Cooler by Design
ROG Maximus XII Extreme features the most comprehensive cooling options ever.
Multiple temperature sources
Each header can be set to monitor and react to three user-configurable thermal sensors for workload-based cooling. And all settings can be easily managed by Fan Xpert 4 or UEFI.
4-pin PWM/DC fan
Every onboard header supports auto-detection of PWM or DC fans.
Bundled Fan Extension Card II
Bundled cand includes six additional DC or PWM fan headers, plus three thermal-probe headers.
Dual water-temperature headers and a flow-rate header feed information straight into the AI Suite utility, allowing you to track coolant temperatures and the flow rate of the entire loop.
Water pump+
A dedicated header can supply over 3 amps to high-performance PWM or DC water pumps.
Water in/out
A dedicated header enables monitoring of temperatures at the input/output points of any component.
Water flow
A dedicated header enables constant monitoring of flow rate throughout the entire loop.
ROG Maximus XII Extreme includes the new Fan Extension Card II, which adds six headers that area controllable via FanXpert 4. The card features three temperature-sensor headers to complement the one available onboard, and also comes with three thermistors that can be affixed to different components. In addition to supplying extra headers for cooling, it provides three RGB headers to provide illuminated effects for your RGB fan.
ROG provides the tools needed to optimise your system quickly and easily. For those who relish complete control, the UEFI BIOS offers advanced customisation options so you can tweak every aspect of your system.
The dashboard-style control panel of AI Suite 3 lets you fine-tune almost every aspect of your ROG Maximus XII Extreme system with ease. Get the best balance between performance, cooling, stability, and efficiency via one simple and intuitive interface.
ROG Maximus XII Extreme offers advanced connectivity, including WiFi 6 (AX201) and dual Ethernet with intel 2.5G Ethernet and 10G port to eliminate bottlenecks so you can enjoy exceptionally smooth online and LAN play. Additionally, the M.2 supports Intel VROC technology to maximise the speed of your SSD for faster load times, and SupremeFX on-board audio provides superb sound, while saving a PCIe slot.
WiFi 6 (AX201)
Onboard WiFi 6 (802.11ax) supports ultrafast wireless-networking speeds, improved capacity and better performance in dense WiFi environments, providing exceptional online gaming experiences. *
10 Gbps onboard Ethernet
Designed to meet the demanding requirements of power users and content creators, 10 Gbps onboard Ethernet provides a new level of home networking. With up to 10X the bandwidth of standard gigabit Ethernet, you'll enjoy streaming uncompressed 4K UHD videos, and backups and file transfers that are faster than ever before. **
Intel 2.5G Ethernet
Onboard Intel 2.5G Ethernet gives your wired connection a boost, with up to a 2.5X improvement over standard Ethernet connections for faster file transfers, smoother lag-free gaming and high-res video streaming.
USB 3.2 Gen 2 front-panel connectors
Two front-panel USB 3.2 connectors area ready to accommodate a wide variety of devices.
USB 3.2 Gen 2x2
Reversible USB 3.2 Gen 2x2 Type-C ports provide ultimate flexibility and blazing data-transfer speeds.
Bundled Thunderbolt 3 Expansion Card
At a breathtaking 40Gbps you'll experience faster transfers, with four times (4X) the data speeds of any other cable and twice (2X) the video bandwidth.
Maximus XII Extreme supports up to four onboard M.2 drives to maximise storage. Two can be found on the ROG DIMM.2 module, next to the memory slots, and supports drives as long as 110 mm. The other two can be found under the aluminium heatsink cover. PCIe support ensures compatibility with the very latest NVMe SSDs for ultrafast transfer speeds.
ROG DIMM.2
The ROG DIMM.2 module is an innovative expansion card that allows two M.2 drives to be connected via a DDR4 interface. You can then add a metal heatsink, helping to control thermals for maximum performance while elevating the aesthetics.
ROG SupremeFX audio technology has levelled up, delivering an exceptional 113 dB signal-to-noise ratio on the line-in connection to provide best-ever recording quality. There's also a low-dropout regulator for cleaner power delivery to the SupremeFX S1220 codec, an ESS ES9023P digital-to-analogue converter for superior front-panel output, and a Texas Instruments RC4580 op amp for high gain with low distortion - all to deliver audio that envelops you as never before.
Led-Illuminated Audio Jacks
Allows you to easily identify audio ports and saves you from fumbling around in the dark.
ESS ES9023P
The ESS ES9023P digital-to-analogue converter creates a perfect balance for top-tier audio clarity capable of 112db DNR /-94dB THD+N for superior front-panel output.
S1220 Codec
10 DAC channels provide simultaneous 7.1-channel playback, independent 2.0-channel, multiple-stream stereo to front-panel outputs
Switching MOSFETS
Unique design allows the codec's impedance-sensing function to be ported with either the front or rear headphone outputs
Nichicon CAPS
Fine-quality Japanese-made components that produce a warmer, natural sound with exceptional clarity and fidelity
In addition to extraordinary performance, Maximus XII Extreme provides extensive styling and customisation options to let you build a system that truly stands apart.
Grow your Gaming World
Gear up with ROG components, from graphics and monitors to mice and keyboards. And up your game with complementary aesthetics, control and compatibility. The ROG ecosystem is more extensive than any competing brand, so enjoy greater choice as your system expands.
Addressable Gen 2 RGB header
The addressable Gen 2 RGB headers now feature software that can automatically tailor lighting effects to specific devices. The new headers also offer backward-compatibility with existing Aura RGB gear.
RAMCache lll software utility turns milliseconds into microseconds to boost game-load times. Fully compatible with the latest NVM Express storage options, RAMCache lll utilises uniquely intelligent technology to effectively cache any storage device, so favourite games and apps launch at breakneck speeds.
Description
Specification
Motherboard Type: Desktop
Form Factor: Extended ATX
Socket: Intel 1200
Chipset: Intel Z490
#Hide#DDR Type: DDR4
CPU Support: Click here for CPU support
RAM Technology: DDR4 (Dual Channel)
RAM Slots: 4 x DIMM
RAM Speeds: 4800(O.C.)/4700(O.C)/4600(O.C)/4500(O.C)/4400(O.C)/4266(O.C.)/4133(O.C.)/4000(O.C.)/3866(O.C.)/3733(O.C.)/3600(O.C.)/3466(O.C.)/3400(O.C.)/3333(O.C.)/3200(O.C.)/3000(O.C.)/2933/2800/2666/2400/2133 MHz
Maximum Memory: 128GB
Graphics: -
Graphics Ports: -
Multi-GPU Support: Supports NVIDIA 2-Way SLI Technology
Supports AMD 3-Way CrossFireX Technology
PCI/PCI Express: Intel 10th Gen Processors
2 x PCIe 3.0 x16 (x16 or dual x8)

Intel Z490 Chipset
1 x PCIe 3.0 x4
Storage: Intel 10th Gen Processors
ROG DIMM.2 Module supports
2 x M.2 (2242/2260/2280/22110) - PCIe

Intel Z490 Chipset
8 x SATA III
1 x M.2 (2242/2260/2280) - SATA & PCIe
1 x M.2 (2242/2260/2280) - PCIe
RAID: "RAID 0, 1, 5, 10"
Wireless: Intel Wi-Fi 6 AX201
2x2 Wi-Fi 6 (802.11 a/b/g/n/ac/ax)
Support 1024QAM/OFDMA/MU-MIMO
Supports up to 2.4Gbps max data rate
Supports dual band frequency 2.4/5 GHz
Supports channel bandwidth: HT20/HT40/HT80/HT160
Supports CNVI interface
Bluetooth v5.1
LAN: 10GB LAN & 2.5GB LAN
Audio: ROG SupremeFX 7.1 Surround Sound High Definition Audio CODEC S1220
USB Ports Supported: "1 x USB 3.2 Gen 2x2 Type-C (at back)
3 x USB 3.2 Gen2 (2 Type-A & 1 Type-C at back)
2 x USB 3.2 Gen2 (mid-board)
10 x USB 3.2 Gen1 (6 at back, 4 at mid-board)
6 x USB 2.0 (2 at back, 4 at mid-board)"
Back Panel I/O Ports: 1 x LAN (2.5G)
1 x USB 3.2 Gen 2x2 (1 Type-C)
3 x USB 3.2 Gen2
6 x USB 3.2 Gen1
2 x USB 2.0
1 x Optical S/PDIF out
1 x Clear CMOS button
1 x USB BIOS FlashBack Button
1 x ASUS Wi-Fi Module
5 x LED-illuminated audio jacks
1 x Aquantia AQC-107 10G LAN
Internal I/O Connectors: "1 x CPU Fan
1 x CPU OPT Fan
2 x Chassis Fan
2 x W_PUMP+
1 x WB_SENSOR
8 x Radiator Fan
W_IN, W_OUT, W_FLOW
1 x Node
1 x AAFP
2 x Aura RGB Strip
2 x Addressable Gen2
2 x USB 3.2 Gen2"
.: 2 x USB 3.2 Gen1
2 x USB 2.0
2 x M.2 Socket with M key
8 x SATA 6Gb/s
1 x Thunderbolt
1 x 24-pin EATX
2 x 8-pin ATX 12V
1 x 4-pin EZ_PLUG
1 x Slow Mode switch
8 x ProbeIt Measurement Points
.: "1 x Thermal sensor
1 x LN2 Mode jumper
1 x System panel
1 x Speaker
1 x DIMM.2 Slot supports 2 M.2
2 x RSVD Switch
Buttons: BIOS Switch, Safe Boot, ReTry, Start, FlexKey"
Accessories: 1 x ROG logo plate sticker
3 x M.2 Screw Package
1 x MOS Cooling kit
1 x Fan Ext Card II
1 x Fan Ext Card II power cable
1 x Fan Extn Card II NODE connector cable
1 x Fan Ext Card II screw package
2 x mini DisplayPort Cable
1 x ROG big sticker
1 x Q-Connector
.: 1 x Wi-Fi Antenna
1 x Ext Cable for RGB strips
1 x Ext cable for Addressable LED
3 x Thermistor cables
1 x USB drive with utilities and drivers
8 x ROG weave SATA 6G cable
1 x ROG DIMM.2 with heatsink
1 x M.2 Pad for ROG DIMM.2
2 x 2-in-1 Rubber pad
1 x ROG Multi-Bit screwdriver
1 x THUNDERBOLTEX 3-TR Card
1 x ASUS TB header cable
1 x USB2.0 Cable
ROG key chain
Additional Features: See Overview
Package Type: Retail
Package Weight: 4.6700 kg
Warranty: 3 Years
#Hide#M.2 Slot(s): Yes (M.2)
#Hide#RGB Lighting: Yes (RGB)
#Hide#No. LAN Ports: 2 x LAN
#Hide#Max LAN Speed: 10GB LAN
#Hide#Wi-Fi: Yes (Wi-Fi)
Once you have made your purchase, we can help provide support, remotely or on-site, quickly, from our
un-reveiled support service
.
We can also provide you
Installation Service
, to help you get your new product or device working.
You may want to have some training, on how to use your new purchase, we can help there too,
Remote Training
, to help you to get the best out of your new product or device.