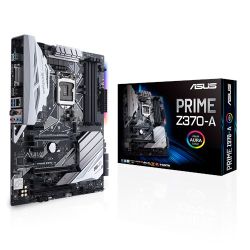 Asus PRIME Z370-A II, Intel Z370, 1151, ATX, DDR4, XFire/SLI, DVI, HDMI, DP, RGB Lighting, M.2
Manufacturer :
ASUS
Manufacturer Part Code :
90MB0ZT0-M0EAY0
Category : Motherboards
Weight: 1.4000 kg
Price : £ 146.41 + £ 5.20 Postage per Order (UK)
We only supply to the UK
Items : 10
Updated : 08-12-2019 13:12:45
Intel LGA 1151 ATX motherboard with M.2 Heatsink, DDR4 4000MHz, Dual M.2, Intel Optane memory ready, SATA 6Gb/s, USB 3.1 Gen 2 Type-C
Ready for the latest Intel® Core™ processors
Enhanced power solution: Premium components provide better power efficiency
5-Way Optimization: One-click, system-wide tuning delivers optimized overclocks and intelligent cooling for CPU or GPU-intensive tasks
ASUS OptiMem: Careful routing of traces and vias to preserve signal integrity for improved memory overclocking
Industry-leading cooling options: Comprehensive controls for fans and water pumps, via Fan Xpert 4 software or the acclaimed ASUS UEFI
Next-gen connectivity: Supreme flexibility with Intel Optane memory ready, Thunderbolt 3 and dual M.2 support
M.2 heatsink: Ultra-efficient heatsink reduces M.2 SSD temperatures by up to 20°C for unthrottled transfer speeds and enhanced reliability
ASUS Aura Sync: Controllable onboard RGB lighting that can be easily synced with an ever-growing portfolio of Aura-capable hardware
ASUS Prime Z370 Series motherboards provide the solid foundation needed for your first build, plus loads of scope to grow with your ambitions. We've melded all the good stuff that's packed into the latest Intel processors with essential ASUS design and engineering, so you benefit from industry-leading technologies — including automated system tuning, comprehensive cooling controls, immersive onboard audio, and support for the ASUS Fan Extension Card. Build smart and easy with ASUS Prime Z370.
Power Delivery Enhancements
The Prime Z370-A II's CPU VRM utilizes Dr. MOS power stages that combine high-side and low-side MOSFETs and drivers into a single package, delivering the power and efficiency that Intel's latest processors demand.
Compared with traditional power inputs, ProCool sockets are built to tight specifications to ensure flush contact with the PSU power lines. This lowers impedance, which helps to prevent hotspots and connector failure.
One-click overclock and cooling, done!
ASUS 5-Way Optimization makes your PC smart. One click takes care of complex tuning, dynamically optimizing essential aspects of the system to provide overclocking and cooling profiles that are tailored for your rig.
An automated tuning utility that optimizes overclocking and cooling profiles for your unique system configuration.
Fans stay whisper-quiet with everyday computing, and deliver optimal airflow when the system is crunching through CPU or GPU-intensive tasks.
Stress test function helps optimize and overclock for CPU- or memory-centric workloads.
Make your Memory go Faster
ASUS OptiMem preserves memory signal integrity by routing memory traces and vias to the optimal PCB layer, and our T-Topology layout ensures time-aligned signaling by balancing trace lengths between memory slots. These enhancements lead to more headroom for overclocking and improved stability, allowing memory speeds of DDR4-4000 and beyond with all slots populated.
OC Design – ASUS Pro Clock Technology
PRIME Z370-A II includes a dedicated base-clock (BCLK) generator that extends CPU and memory overclocking margins. This custom solution works in tandem with the TPU to enhance voltage and BCLK overclocking control, providing the flexibility to extract every ounce of performance from the Intel Core 8th Generation processors.
PRIME Z370-A II features the most comprehensive cooling controls ever, configurable via Fan Xpert 4 or the UEFI BIOS.
Multiple temperature sources
AIO pump
4-pin PWM/DC fan
ASUS Fan Extension Card support
Smart protection
With the all-new ASUS Fan Holder increasing airflow your Prime Z370 Series motherboard's VRM area is simple. Just screw on a 40/50mm fan, mount the bracket on the heatsink, and hook the fan up to a header for a targeted cooling boost. With the Fan Holder and fan in place, VRM temperatures are reduced by up to 25 degrees - perfect for your overclocking adventures.
Media-acclaimed UEFI BIOS
The smoothest, slickest mouse-controllable graphical BIOS has been improved to make it even more appealing. Whether you're a PC novice or a seasoned overclocker, EZ and Advanced modes will help you quickly find your way, quickly and easily.
EZ Tuning Wizard
Quickly apply a CPU overclock to improve system performance, or configure a RAID array for faster data retrieval and backups
My Favorites
Quickly discover tuning options and add preferred tools to the list.
Speed up with onboard M.2 up to 32Gbps
With x4 PCI Express 3.0/2.0 bandwidth, M.2 supports up to 32Gbps data-transfer speeds. It's the perfect choice for an operating system or application drive, providing fast access to data.
Keep your SSD cooler
PRIME Z370-A II has an ultra-efficient heatsink to reduce M.2 SSD temperatures by up to 20C - and that means optimal storage performance and improved SSD longevity.
Intel Optane memory ready
Intel Optane™ is a revolutionary non-volatile memory technology supported by PRIME Z370-A II. Intel Optane memory modules accelerate attached storage to reduce boot and load times, so everything feels faster and more responsive.
Ultimate-speed 10Gbps with USB 3.1 Gen 2 onboard
With backward-compatible USB 3.1 Gen 2 Type-A™ and reversible USB 3.1 Gen 2 Type-C™ ports, you'll experience ultimate connection flexibility and blazing data-transfer speeds of up to 10Gbps.
Experience blistering Thunderbolt 3 speeds and any-way-up connectivity
PRIME Z370-A II provides full support for a ThunderboltEX 3* card. An Intel-certified Thunderbolt™ 3 add-on card enables breathtaking bi-directional speeds of up to 40Gbps through a single cable - up to 4X faster than other PC data-transfer protocols. Beyond sheer bandwidth, Thunderbolt 3 supports daisy-chaining up to six devices, utilizes a Type-C reversible connector for compatibility with the latest USB 3.1 Gen 2 Type-C devices, and meets USB Power Delivery specifications for fast, high-power charging of up to 36W.
More throughput, less CPU usage
PRIME Z370-A II features the very latest Intel Ethernet. Intel's LAN has the advantage of reducing CPU overhead and offering exceptionally high TCP and UDP throughput for faster, smoother data transfer.
Reliable Stability and Compatibility
Protect your graphics card investment
SafeSlot is the PCIe slot reinvented by ASUS and engineered to provide superior retention and shearing resistance. Manufactured in a single step using a new insert-molding process, SafeSlot integrates the slot with fortifying metal for an inherently stronger slot, which is then firmly anchored to the PCB through additional solder points.
ASUS is the world's foremost motherboard manufacturer, renowned for our unique Design Thinking approach. Our exhaustive testing exceeds industry standards, supported by high-quality components for exceptional real-world protection. Our motherboards are proven to be compatible with more than 1,000 components and devices, and each new model undergoes a minimum of 8,000 hours of strict validation. ASUS gives you the peace of mind of knowing that your motherboard is fit for all environments and applications. By choosing ASUS, you also gain the freedom to select outstanding component options, for trouble-free DIY experiences.
5X Protection III
Hardware safeguards to ensure long-term durability.
520+ DDR4 compatibility
Industry-leading DDR4 memory compatibility for best flexibility and reassurance.
1000+ compatible devices
Compatibility with a range of CPUs, memory modules, graphics cards and more.
8000+ validation hours
Extensive testing with latest components for enhanced reliability, compatibility and safety.
Upgrade to Unrivalled Audio
Realtek codec and unique design features for pristine, powerful audio
PRIME Z370-A II utilizes a unique audio codec designed in close collaboration with Realtek - the Realtek S1220A. It also features an unprecedented 120dB signal-to-noise ratio for the stereo line-out and a 113dB SNR for the line-in, providing pristine audio quality. Additionally, a new impedance-sensing circuit automatically adjusts gain to ensure the optimal volume range for your headphones.
Surround sound
Immersive 3D surround-sound technology provides incredible audio experiences.
Flawless audio that immerses you in the game
Power pre-regulator
Reduces power-input noise to ensure consistent performance.
Audio shielding
Separates analog/digital signal domains, significantly reducing multi-lateral interference.
Separate layer for left and right tracks
Ensures minimal crosstalk between audio paths.
Integrated amplifier
Capable of driving high-impedance headphones, without rolling-off high or low frequencies.
De-pop circuit
Reduces start-up popping noise to all audio outputs.
Premium Japanese-made audio capacitors
Premium parts provide an immersive sound signature, with exceptional fidelity.
Visual Beauty, Virtual Worlds
Outshine the competition
A well-tuned enthusiast system deserves a matching aesthetic. ASUS Aura Sync offers full RGB control with a variety of functional presets for the built-in RGB LEDs as well as the LED strips connected to the onboard RGB headers.* And it can all be synced with an ever-growing portfolio of Aura-capable ASUS hardware.
Complete your immersion
PRIME Z370-A II isn't just VR ready - it goes way beyond. The ASUS Beyond VR Ready marque means that PRIME Z370-A II has been tested with loads of class-leading components to ensure that your productivity, gaming and entertainment needs are tuned for maximum performance. ASUS Beyond VR Ready opens up a new way to configure and build your dream system with total confidence.
The Intel® Z370 is a single-chipset design that supports 8th Generation Intel® Core™ LGA1151 processors. It provides improved performance by utilizing serial point-to-point links, allowing increased bandwidth and stability. Additionally, the Z370 provides a maximum of 10 USB 3.1 Gen 1 ports, six SATA 6Gbps ports, and 32Gbps M.2 and PCIe 3.0 lane speed support, for faster data retrieval. Intel Z370 also supports integrated-graphics, so you'll enjoy the very latest in graphics performance.
Ready for 8th Generation Intel LGA1151 Core processors
This motherboard supports 8th Generation Intel® Core™ processors in the LGA1151 package, with integrated graphics, memory and PCI Express controllers to support onboard graphics output with dedicated chipsets, dual-channel (4-DIMM) DDR4 memory and 16 PCI Express 3.0/2.0 lanes for great performance.
Description
Specification
Motherboard Type: Desktop
Form Factor: ATX
Socket: Intel 1151 - Coffee Lake
Chipset: Intel Z370
#Hide#DDR Type: DDR4
CPU Support: Click here for CPU support
RAM Technology: DDR4 (Dual Channel)
RAM Slots: 4 x DIMM
RAM Speeds: 4000(O.C.)/3866(O.C.)/3733(O.C.)/3600(O.C.)/3466(O.C.)/3400(O.C.)/3333(O.C.)/3300(O.C.)/3200(O.C.)/3000(O.C.)/2800(O.C.)/2666(O.C.)/2400(O.C.)/2133 MHz
Maximum Memory: 64GB
Graphics: Supports Intel HD Graphics
Graphics Ports: 1 x DVI-D
1 x HDMI
1 x DisplayPort
Multi-GPU Support: Supports NVIDIA 2-Way SLI Technology
Supports AMD 3-Way CrossFireX Technology
PCI Express: 2 x PCIe 3.0 x16 (x16 or dual x8)
1 x PCIe 3.0 x16 (max at x4 mode)
4 x PCIe 3.0 x1
PCI: -
Storage: 6 x SATA III
1 x M.2 Socket 3 (2242/2260/2280) - SATA & PCIe
1 x M.2 Socket 3 (2242/2260/2280) - PCIe
RAID: "RAID 0, 1, 5, 10"
Wireless: -
LAN: GB LAN
Audio: Realtek S1220A 8-Channel High Definition Audio CODEC featuring Crystal Sound 3
USB Ports Supported: "2 x USB 3.1 Gen 2 (Type-A & Type-C at back)
6 x USB 3.1 Gen 1 (2 at back, 4 at mid-board)
6 x USB 2.0 (2 at back, 4 at mid-board)"
Back Panel I/O Ports: x DVI-D
1 x DisplayPort
1 x HDMI
1 x LAN (RJ45)
2 x USB 3.1 Gen 2
2 x USB 3.1 Gen 1
2 x USB 2.0
1 x Optical S/PDIF out
5 x Audio jacks
Internal I/O Connectors: 1 x Aura RGB Strip
2 x USB 3.1 Gen 1
2 x USB 2.0
2 x M.2 Socket 3
6 x SATA 6Gb/s
1 x CPU Fan
1 x CPU OPT Fan
2 x Chassis Fan
1 x Thunderbolt
1 x 24-pin EATX
1 x 8-pin ATX 12V
1 x EZ XMP switch
.: 1 x Front audio
1 x System panel
1 x 5-pin EXT_FAN
1 x MemOK! button
1 x CPU OV
1 x Power-on button
1 x Clear CMOS
1 x 14-1 pin TPM
1 x COM port
1 x T_Sensor
1 x AIO PUMP
2 x 3D Mount screw ports
1 x M.2 Fan
Accessories: Users manual
ASUS Q-Shield
3 x SATA 6Gb/s cable(s)
1 x M.2 Screw Package
1 x CPU installation tool
1 x Supporting DVD
1 x SLI HB BRIDGE(2-WAY-M)
1 x Q-connector(s) (1 in 1)
Additional Features: See Overview
Package Type: Retail
Package Weight: 1.4000 kg
Warranty: 3 Years
#Hide#M.2 Slot(s): Yes (M.2)
#Hide#RGB Lighting: Yes (RGB)
#Hide#No. LAN Ports: 1 x LAN
#Hide#Max LAN Speed: GB LAN
Once you have made your purchase, we can help provide support, remotely or on-site, quickly, from our
un-reveiled support service
.
We can also provide you
Installation Service
, to help you get your new product or device working.
You may want to have some training, on how to use your new purchase, we can help there too,
Remote Training
, to help you to get the best out of your new product or device.