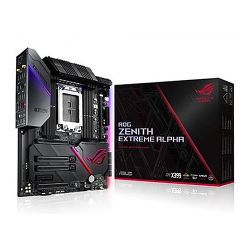 Asus ROG ZENITH EXTREME ALPHA, AMD X399, TR4, EATX, 8 DDR4, XFire/SLI, Wi-Fi, Dual LAN (1 x 10GB), RGB Lighting, M.2
Manufacturer :
ASUS
Manufacturer Part Code :
90MB10G0-M0EAY0
Category : Motherboards
Weight: 4.2500 kg
Price : £ 592.50 + £ 5.20 Postage per Order (UK)
We only supply to the UK
Items : 5
Updated : 08-12-2019 12:12:25

AMD X399 EATX gaming motherboard for AMD Ryzen™ Threadripper™ processors, with ROG DIMM.2, DDR4 3600MHz , onboard 802.11ac Wi-Fi, 10Gbps LAN, USB 3.1 Gen 2, SATA, Triple M.2 and Aura Sync RGB lighting

AMD TR4 socket: Ready for 1st and 2nd Gen AMD Ryzen™ Threadripper™ processor series to maximise connectivity and speed with up to three M.2 drives and USB 3.1 Gen 2.
Comprehensive thermal design: Active heatsink with integrated VRM fan, PCIe-zone M.2 aluminium heatsink and dual backplates.
High-performance networking: Onboard Aquantia® 10Gbps LAN, 802.11ac Wi-Fi with MU-MIMO support, and Intel gigabit LAN with ASUS LANGuard and GameFirst V technologies.
5-Way Optimisation: Automated system-wide tuning, providing overclocking and cooling profiles that are tailor made for your rig.
SafeSlot technology: Firmly-anchored PCIe slots fortified with metal to support heavyweight graphics cards.
Unmatched personalisation: LiveDash OLED and ASUS-exclusive Aura Sync RGB lighting, including two RGB headers and addressable headers.
Industry-leading ROG audio: SupremeFX S1220 and ESS®SABRE9018Q2C for enthusiast-grade audio performance driven by Japanese capacitors.
To ensure 32-core processing beasts stays cool, even at stock speeds. The Alpha is fully armed to provide the best foundation for extreme PC systems, enabling higher performance at lower temperatures.
Active Heatsink
Fans located within the heatsink kick on after 60°C and allow the Zenith Extreme Alpha to handle sustained power draw of over 500W.
Aluminium I/O Cover
Connects to the primary heatsink via an embedded heat-pipe,increasing mass and surface area.
SOC Heatsink
Designed to cool vital motherboard power delivery areas to enhance the overclocking potential of 2nd Gen Threadripper WX Series Processers.
ROG Aluminium Cover Heatsink
The cover is crafted from pure aluminum to efficiently cool the Alpha only 1 onboard M.2 Drive.
Dual Backplates
Add rigidity and additional functionality to the oversized board. One adds additional mass to siphon heat from the VRM, while the other adds additional RGB lighting effects.
PCH Heatsink
The PCH heatsink blends seamlessly with the Aluminium Heatsink cover and prominently features the ROG logo.
Multiple temperature sources
Each header can be set to monitor and react to three user-configurable thermal sensors, for workload based cooling. All easily managed by Fan Xpert 4 or UEFI.
Water pump+
A dedicated header that can supply over 3A to high-performance PWM or DC water pumps.
4-pin PWM/DC fan
Every onboard header supports auto-detection of PWM or DC fans.
Bundled Fan Extension Card II
Includes six additional DC or PWM fan headers, plus three thermal-probe headers.
Heatsink Fan
A dedicated header for onboard heatsink fan.
Water in/out
Allows for monitoring of temperature at the input/out of any component.
Water flow
Allows for constant monitoring of the flow rate of entire loop
Water-block-Sensor
A special connector that lets water blocks designed for the ROG Zenith Extreme Alpha provide flow, temperature and leakage data.
ROG Water-Cooling Zone's dual water-temperature headers and flow-rate header feed information straight into the AI Suite utility, so you can keep track of coolant temperatures, and the flow rate of the entire loop.
W_Flow Tachometer
Enables constant monitoring of flow rate of the entire loop.
W_In/Out T-Sensor
Enables monitoring of temperatures at the input/output of any component.
ROG Zenith Extreme Alpha includes our new Fan Extension Card II, which adds six headers that are controllable via FanXpert 4. The card has three temperature-sensor headers to complement the one available onboard and, more importantly, it comes with three thermistors that you can affix to different components. In addition to supplying extra headers for cooling, it has three primed for RGB LED strips.
Every aspect of Alpha to provide the solid foundation needed to create an extreme gaming and workstation system that delivers the highest performance.
Power Design that Bucks Trends
The monstrous compute power of high core count processors necessitates a power circuit that rapidly responds to massive current swings. And those demands increase exponentially when the CPU is overclocked. Featuring an array of 16 strategically paired power stages, the Alpha's VRM is geared for any workload and all operating conditions.
Robust power delivery starts at the component level. Every aspect of the Alpha VRM is generously over-specified for the task.
Dual 8-Pin Procool Power Connectors
Two ProCool connectors ensure a snug and reliable connection to the EPS 12V power lines.
Powerstage Mosfets
The Alpha VRM is comprised of 16 IR3555 PowIRstages, each rated to handle 60 amps
Microfine Alloy Chokes
Each PowIRstage is accompanied by a high-permeability alloy-
DDR 3600MHz (O.C.)
With support for DDR4 memory you're able to drive memory frequencies to 3600MHz, ASUS-exclusive circuit design, provides superb memory-overclocking potential, minimising coupling noise and signal reflection to unleash the full power of DDR4. With innovative equidistant memory channels, the ROG design delivers the most balanced control and incredibly powerful overclocking capability. And that's not all: ROG works with almost every DDR4 memory vendor, ensuring the best compatibility.
The Alpha is packed with intuitive and flexible tools that let you optimise every aspect of your system to deliver the performance you want. Take advantage of 5-Way Optimisation for intelligent, automatic overclocking or enjoy full manual control via comprehensive UEFI BIOS settings.
AI Suite 3's dashboard-style control panel lets you fine-tune almost every aspect of your Zenith Extreme Alpha system. Get the best balance between performance, cooling, stability, and efficiency via one simple and intuitive interface.
CPU-performance boost
The TurboV Processing Unit (TPU) is an intelligent onboard micro-controller that provides an array of system-tuning features, including the ability to fine-tune voltages, monitor system stats and adjust overclocking parameters.
All-around energy efficiency
With the Energy Processing Unit (EPU) you'll enjoy system-wide power savings. The EPU automatically optimises power consumption and maximises savings with Away mode - a smart setting that creates an extreme energy-saving scenario by shutting down unused I/O controllers.
Flexible cooling controls for air or liquid
Enjoy comprehensive control over fans and water pumps, via either Fan Expert 4 or our UEFI. Whether you're cooling with air or water, Auto-Tuning mode intelligently configures all parameters with a single click. There's also an Extreme Quiet mode, which reduces all fan speeds to below the default minimum — keeping your system whisper-quiet when performing light tasks.
Precise digital power control
The Digi+ voltage-regulator module (VRM) delivers real-time control over voltage droop, switching frequency and power-efficiency settings, allowing you to fine-tune CPU voltage regulation for ultimate stability and performance.
Turbo Core App
Intel's processors feature per-core tuning, and the ASUS Turbo app makes use of this feature by letting you assign applications to specific processor cores, prioritising computing power where it's needed most.
The UEFI BIOS is an early waypoint on any PC-building journey, and Zenith Extreme Alpha offers one of the best in the business.
Advanced Mode
My Favorites
Quickly find tuning options and add preferred tools to the list.
EZ Flash 3
Flash the latest BIOS via the internet from within the BIOS.
SMART
Check your storage device Self-Monitoring, Analysis, and Reporting Technology logs to gauge reliability and identify potential failures.
GPU POST
Automatically detect selected ASUS graphics cards to view detailed information.
Secure Erase
Restore your SSDs and NVMe storage to factory settings.
Last Modified Log
Track the last change and save preferred profiles to a USB drive.
SATA Port Renaming
Rename SATA ports for easy identification.
User Profile
Port configuration settings between different BIOS versions or share them with friends
Q-Fan Control
Configure the fan's operating speed manually or use pre-configured fan profiles to quickly select Standard, Silent, Turbo or Full Speed modes. By default, system fans will automatically switch to full speed if the temperature reaches 75C.
Together with customisable audio profiles and tools to optimise storage and networking performance, the Alpha provides the ability to create an expertly tuned machine with minimal effort.
AMD StoreMI
AMD StoreMI technology is a software utility that accelerates any drive for better system responsiveness with reduced startup and software load times. It combines SSD performance with the affordability and capacity of an HDD by automatically moving frequently accessed data to dedicated SSD storage.
CPU Raid
Wired directly to the processor, the lower onboard M.2 slot can be used in chipset-based RAID configurations to improve storage performance or provide a layer of redundancy.
Intel Integrated Ultra Wi-Fi Support
ROG Zenith Extreme Alpha features Intel Wireless AC-9260 Wi-Fi (802.11ac) with 2x2 MU-MIMO and wide 160MHz channel, for wireless speeds of up to 1.73Gbps.* In fact, the integrated adapter pushes wireless data up to 2X faster than other Wi-Fi solutions — so you'll get fast, smooth transfers, even when your rig is further away from the router. Intel Wireless-AC 9260 also offers Bluetooth 5.0 for connections that are up to 2X faster than ever before, and with up to 4X the range.
Designed for the demanding requirements of power users and content creators who push the envelope, 10Gbps onboard LAN plugs you into a new era of home networking. With up to 10X the bandwidth of standard gigabit Ethernet, you'll enjoy streaming uncompressed 4K UHD videos, and backups and file transfers that are faster than ever before. And there's also support for intermediate 2.5Gbps and 5Gbps connectivity, allowing you to step up to faster networks for maximum flexibility. Choose the bandwidth that meets your needs and enjoy ultra-low latency at any speed.
Intel Ethernet
ROG Zenith Extreme Alpha features the latest Intel® Ethernet (I211-AT) for faster, smoother gaming. This Intel controller has a natural synergy with Intel processors and chipsets, reducing CPU overhead and offering exceptionally high TCP and UDP throughput – so there's more power for games and other tasks.
SupremeFX
ROG is renowned for superior onboard audio, and ROG Zenith Extreme Alpha is no exception. The front-panel headphone output features a SABRE9018Q2C integrated DAC/amp capable of reaching -115dB THD+N to provide playback that convey all the subtlety and nuances of the audio track. The improved resolution derived from the ESS Hyperstream™ DAC architecture expands the soundstage to give a better sense of positioning. Beyond resolution, the 121dB DNR provides an extremely low noise-floor, further accentuating dynamics and punch. And, when you want to shift priority to musicality, our Sonic Studio software provides an array of EQ options, allowing the sound signature to be tweaked to suit your cans.
LED-Illuminated Audio Jacks
Backlit audio jacks save you from fumbling around in the dark.
ESS SABRE9018Q2C DAC/AMP
Creates a perfect balance for top-tier audio clarity capable of -115dB THD
S1220 Codec
10 DAC channels, simultaneous 7.1-channel playback, independent 2.0-channel, multiple-stream stereo to front-panel outputs
Switching Mosfets
Unique design allows the codec's impedance-sensing function to be ported with either the front or rear headphone outputs
Nichicon Caps
Fine-quality Japanese-made components that produce a warmer, natural sound with exceptional clarity and fidelity
In addition to extraordinary performance, Zenith Extreme Alpha provides extensive styling and customisation options to let you build a system that truly stands apart.
Grow your Gaming World
Gear up with ROG components, from graphics and monitors to mice and keyboards, and up your game with complementary aesthetics, control and compatibility. The ROG ecosystem is more extensive than any competing brand, so enjoy greater choice as your system expands.
ROG First
Interface directly with a ROG router and automatically configure QoS to prioritise network bandwidth to games.
Smart Mode
Automatically caches all your storage devices to maximise your system's resources
Sonic Studio Link
The new Sonic Studio Link now allows you to apply Sonic Studio effects on all playback devices. Simply press the Sonic Studio Link button to enjoy the effect on any playback devices.
Hardware Monitoring
During the power-on, self-test (POST) phase, LiveDash shows key progress stats, in simple language and via traditional POST codes. Then, during normal operation, the vibrant panel shows a choice of CPU frequency, device temperatures, fan speeds or information from the Water Cooling Zone.
Armoury Crate
The brand-new Armoury Crate portal keeps you updated with the latest drivers and BIOS releases. Its easy-to-use UI can be configured to show a variety of information, including security updates, bug patches, the latest ROG news, gaming events and special offers.
Ready for AMD SocketTR4 Ryzen Threadripper
The ROG Zenith Extreme Alpha motherboard supports the latest 2nd Gen AMD Ryzen™ Threadripper™ and AMD Ryzen™ Threadripper™ processors. Based on the innovative Zen core architecture, the high-performance Threadripper CPUs boast up to 32 cores. AMD SocketTR4 processors feature quad-channel DDR4 memory, 64 lanes of PCI Express® 3.0 and native 5Gbps USB 3.0 for superb performance.
AMD X399 chipset
The AMD X399 chipset delivers outstanding overclocking capabilities for the latest AMD SocketTR4 Ryzen™ Threadripper™ processors. It's optimised for multiple GPU configurations, including NVDIA SLITM and AMD CrossFireXTM. It also provides two 10Gbps USB 3.1 ports and eight 6Gbps SATA ports for faster data retrieval.
Description
Specification
Motherboard Type: Desktop
Form Factor: Extended ATX
Socket: AMD TR4
Chipset: AMD X399
#Hide#DDR Type: DDR4
CPU Support: Click here for CPU support
RAM Technology: DDR4 (Quad Channel)
RAM Slots: 8 x DIMM
RAM Speeds: 3600(O.C.)/3466(O.C.)/3200(O.C.)/3000(O.C.)/2933(O.C.)/2800(O.C.)/2666/2400/2133 MHz
Maximum Memory: 128GB
Graphics: -
Graphics Ports: -
Multi-GPU Support: Supports NVIDIA 3-Way SLI Technology
Supports AMD 3-Way CrossFireX Technology
PCI Express: "AMD Ryzen Threadripper CPUs:
4 x PCIe 3.0 x16 (x16, x16/x16, x16/x8/x16, x16/x8/x16/x8)

AMD X399 chipset:
1 x PCIe 3.0 x4"
Storage: 8 x SATA III
1 x M.2 (2242/2260/2280) - PCIe
2 x M.2 (2242/2260/2280/22110) - SATA & PCIe
RAID: "RAID 0, 1, 10"
Wireless: Wi-Fi 802.11 a/b/g/n/ac
Supports dual band frequency 2.4/5 GHz
Supports MU-MIMO
Supports channel bandwidth: HT20/HT40/HT80/HT160
Up to 1.73Gbps transfer speed
Bluetooth 5.0
LAN: GB LAN
Audio: ROG SupremeFX 8-Channel High Definition Audio CODEC S1220
USB Ports Supported: "2 x USB 3.1 Gen2 (Type-A & C port at back)
12 x USB 3.1 Gen1 (8 at back, 4 at mid-board)
4 x USB 2.0 (at mid-board)
1 x USB 3.1 Gen 2 front panel connector"
Back Panel I/O Ports: 1 x LAN (RJ45)
1 x USB 3.1 Gen2 Type-C
3 x USB 3.1 Gen2 Type-A
8 x USB 3.1 Gen1
1 x Optical S/PDIF out
1 x Clear CMOS button
1 x USB BIOS Flashback Button
1 x Wi-Fi GO! module
5 x LED-illuminated audio jacks
1 x Aquantia AQC-107 10G LAN port
Internal I/O Connectors: 1 x WB_SENSOR
2 x Aura Addressable Strip
2 x Aura RGB Strip
2 x USB 3.1 Gen 1
2 x USB 2.0
1 x M.2
8 x SATA 6Gb/s
1 x CPU Fan
1 x CPU OPT Fan
2 x Chassis Fan
1 x H_AMP fan
1 x W_PUMP+
.: 2 x 8-pin EATX 8V
1 x 24-pin EATX
1 x Front audio
1 x Slow Mode switch
7 x ProbeIt Measurement Points
2 x Thermal sensor
1 x EZ Plug
1 x Node
1 x LN2 Mode
1 x 14-1 pin TPM
.: "1 x Slow Mode
1 x System panel
W_IN, W_OUT & W_FLOW
1 x DIMM.2 Slot supports 2 M.2 drives
1 x RSVD Switch
1 x 4-Pin HS fan
1 x USB 3.1 Gen 2 front panel connector
Buttons: ReTry, Start, Start, Reset, BIOS Switch"
Accessories: 6 x SATA cables
1 x Wi-Fi antennas
1 x Fan Ext. Card II
1 x Fan Ext. Card II power cable
1 x Fan Ext. Card II NODE connector cable
1 x Fan Ext. Card II screw package
1 x SLI HB BRIDGE(2-WAY-M)
1 x Q-Connector
M.2 screws
1 x DIMM.2 extension card
.: "1 x Ext. Cable for RGB strips (80 cm)
1 x Ext. cable for Addressable LED
3 x Thermistor cables
1 x USB drive with utilities and drivers
1 x ROG weave SATA 6G cable
ROG Thank you card, coaster, Logo Sticker & big sticker"
Additional Features: See Overview
Package Type: Retail
Package Weight: 4.2500 kg
Warranty: 3 Years
#Hide#M.2 Slot(s): Yes (M.2)
#Hide#RGB Lighting: Yes (RGB)
#Hide#No. LAN Ports: 1 x LAN
#Hide#Max LAN Speed: GB LAN
Once you have made your purchase, we can help provide support, remotely or on-site, quickly, from our
un-reveiled support service
.
We can also provide you
Installation Service
, to help you get your new product or device working.
You may want to have some training, on how to use your new purchase, we can help there too,
Remote Training
, to help you to get the best out of your new product or device.